Get ready to revolutionize your camping experiences with Overland Addict's innovative power supply for Planar Diesel Heaters! Overland Addict has ingeniously created power supply options to make your use of Planar Diesel heaters much more convenient. The traditional power cord that comes with the heater has ring terminals, which can be arduous to attach. But don't worry, we've designed a replacement power cord, which we promise, is definitely the best upgrade for your Planar Diesel Heater.
With Overland Addict's inventive power cord, you'll now be able to connect your heater quickly and efficiently. No more fumbling over nuts and posts, this power cord integrates smoothly with a variety of adapters, making it perfect for the campers among us. The power cord offers easy plug-in access, available with various popular adapters, allowing you to use different power sources with convenience. Whether it's the Anderson sb50 for your trailer, or an Anderson power pole for your portable battery, Overland Addict has got you covered.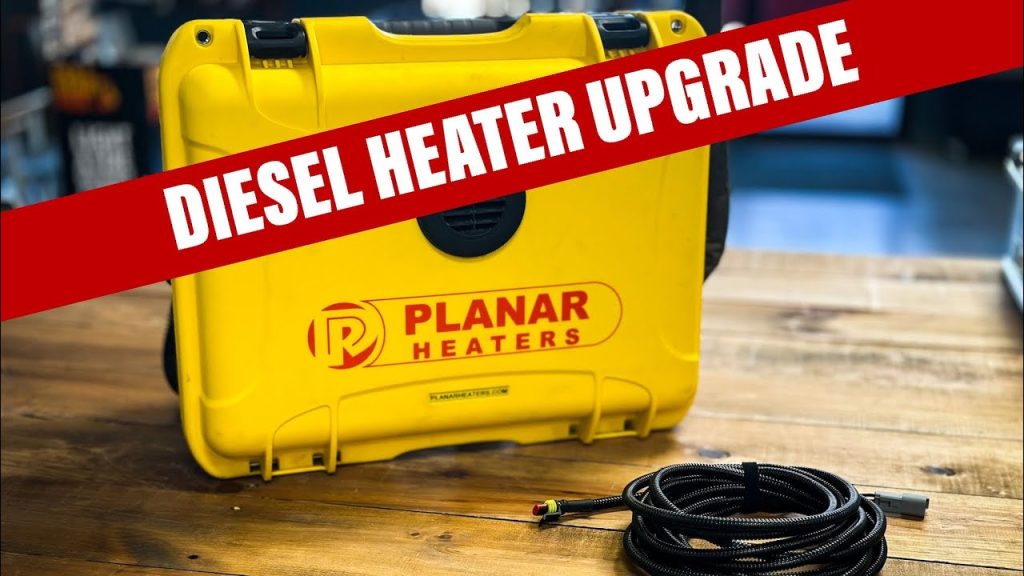 Understanding the Planar Diesel Heater
What is a Planar Diesel Heater?
A planar diesel heater is a fantastic device that comes in handy, especially when most needed in cold temperatures. As the name suggests, it's a heater that uses diesel for its operation. Diesel heaters effectively use a small quantity of fuel to produce a substantial amount of heat, making them efficient and economical for various outdoor ventures.
Benefits of Using a Planar Diesel Heater
Your Planar Diesel Heater is remarkably beneficial when off the grid. It's designed to quickly provide warmth in extremely cold conditions without eating up your vehicle's battery. It's compact, occupying limited space, which is a huge plus for outdoor expeditions. Also, the heater comes with strong build quality, guaranteeing longevity when maintained properly.
Identifying the Problem with Traditional Power Supplies
Issues with using Ring Terminals
The traditional power cord that comes with the Planar Diesel Heater has ring terminals at its end. These are not problematic in themselves, but they can be a bit of a hassle when you're outside camping, mainly because they require rather cumbersome installation. You have to unscrew the nuts, affix the ring terminal onto a post, and then screw it back onto the battery.
Why are traditional power supplies inconvenient for camping?
Ring terminals never were designed with the intricacies of outdoor camping in mind. They may be secure, but they are certainly not convenient. Who wants to pop open the hood and fiddle with nuts and batteries when they could be enjoying a cozy campfire instead?
Introducing Overland Addict's Innovative Power Supply
Key Features of the Innovative Power Supply
Overland Addict's replacement power cord eradicates the ring terminal problem. The 20ft replacement cable has the same end as the original heater cable that plugs into the diesel heater, but on the other end, it boasts a Deuts connector. This, friends, is where the magic happens.
Why this gives a superior camping experience
The Deuts connector is a game-changer. It is designed to work with a variety of adapters. When you go camping, for instance, you might use an Anderson sb50 plug to plug into your trailer batteries. Overland Addict's power cord allows this with superb ease. All you have to do is plug the replacement cable into the diesel heater, plug in the appropriate adapter, and then plug that right into your power source. It's as easy as one, two, three.
Exploring the Replacement Cable
Replacement Cable Specifications
Overland Addict's replacement cable comes in an optimal length of 20ft, which gives you considerable leeway when setting up. The sturdy build ensures durability, while the Deuts connector gives adaptability.
Benefits of the replacement cable over the original cable
The primary advantage of the replacement cable over the original cable is the versatility it brings. You're no longer stuck with ring terminals; you've been given the liberty of choice! You can now use a variety of adapters that fit various power sources.
Understanding the Deuts Connector
What is a Deuts Connector?
A Deuts connector is a sort of link designed to withstand demanding conditions while providing reliable power and signal connections. Known for their super durability, they are often used in industrial machinery and vehicles where performance cannot be compromised.
Why it's a game-changer for camping
In the camping world, where conditions can get unpredictable, a Deuts connector is a breakthrough. It allows multiple adapters to be used, which means you can connect your heater to a wide array of power sources. This drastically improves the level of convenience, enhancing your campsite experience.
Exploring the Different Adapters
Various options of Adapters available
Overland Addict provides numerous adapters from Anderson sb50 plugs to cigarette lighter adapters. These adapters enable you to plug your diesel heater into a variety of sources, including portable batteries, trailers, or any power source with a corresponding outlet.
The flexibility of choosing different adapters for different needs
The advantage of having various adapters is the improved flexibility. Depending on your power source, you can alternate between adapters, making it a practical and convenient solution for your off-grid heating needs.
Emphasizing on the Convenience of the Adapters
How to use adapters with the replacement power cable
Using adapters with the replacement power cable is incredibly easy. Simply plug the corresponding adapter into the Deuts connector at the end of the replacement power cord, then plug the adapter into your power source.
Integration with different power sources
This setup allows easy integration with multiple power sources. So, if you need to connect your Planar Diesel Heater to a trailer battery, a portable battery, or any other power source, you can do so easily by just switching adapters.
Application of Overland Addict's Power Supply
Connecting the replacement cable with the diesel heater
First thing you'll do is attach the replacement cable to your diesel heater. Just connect it as you would do with the original power cord.
How to plug the adapter to the power source
Next, attach the adapter into the Deuts connector at the end of the replacement cable. Once your adapter is securely attached, you can plug it into your power source.
Purchasing the Overland Addict's Innovative Power Supply
Where to Purchase Overland Addict's Innovative Power Supply?
Overland Addict's innovative power supplies are available at their website or physical shop.
Pricing and Availability
As for pricing and availability, please refer to the Overland Addict website or inquire at their store. Rest assured, investing in these power supplies will change your camping game significantly.
Conclusion
The revolution in camping experience with Overland Addict's Innovative Power Supply
Overland Addict's Innovative Power Supply revolutionizes your camping experience by making power supply to your diesel heater a breeze. The flexibility, the convenience, and the comfort it grants you is unparalleled.
The impact on future camping trips
In future camping trips, you'll spend less time fussing over making the heater work and more time soaking in the beauty of the wild. Get ready to embrace the colder climates without hesitation, because with Overland Addict's Innovative Power Supply, staying warm is no more a challenge, it's a guaranteed promise.