Embark on your wintry camping adventures with newfound confidence, armed with the Planar Portable Diesel Heater. No longer does the cold weather have to force you into hibernation; with this heater, the great outdoors is your year-round playground. Known for its supremacy among overlanding and camping gear, the Planar Heater emits dry heat preventing any buildup of condensation, contrary to their propane counterparts. Enabled with altitude compensation, it autonomously adjusts fuel pumps based upon the detected altitude, ensuring impeccable performance even at soaring heights above 6,500 ft sea level. Portable, efficient, and reliable, it's an investment that guarantees warmth and comfort during your frosty overnight stays.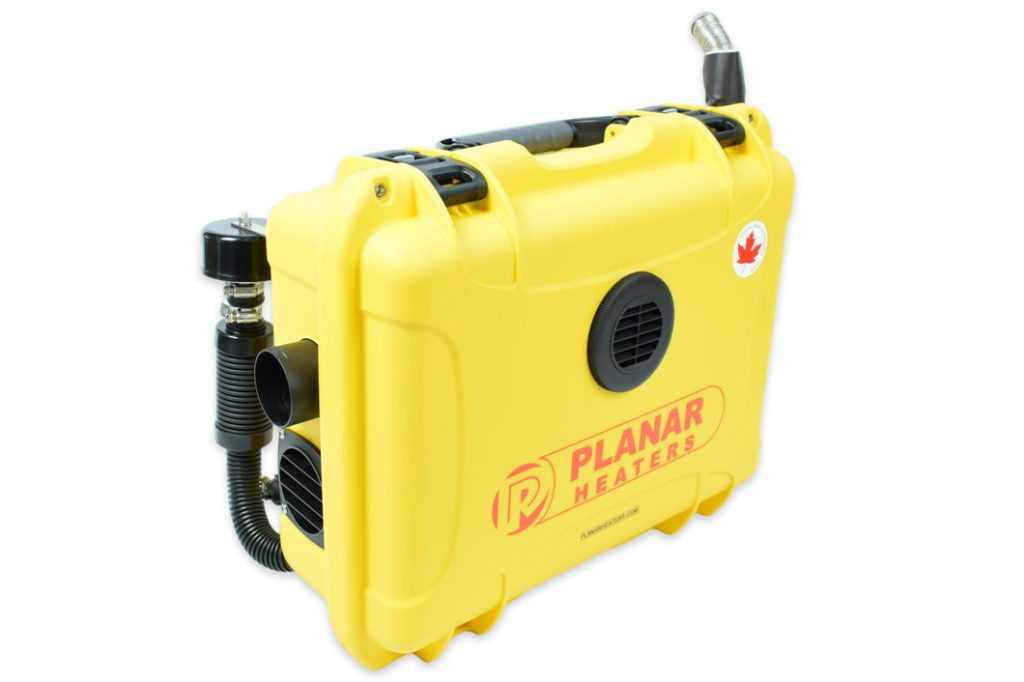 This image is property of overlandaddict.com.
Understanding Planar Portable Diesel Heater
When the temperature drops, a portable diesel heater can make a significant difference in your comfort level. One option that stands out from the rest due to its efficiency and versatility is the Planar Portable Diesel Heater. This is an ideal choice for those who find the winter months too cold for camping.
Features of the heater
This heater is capable of providing you with a warm and comfortable environment. Unlike propane heaters, the Planar heater produces dry heat, meaning there won't be any build-up of condensation. Furthermore, it has an altitude-compensating feature built into the unit. This feature enables the unit to operate at higher altitudes. An on-board pressure sensor notices the current altitude and makes adjustments to the fuel pump to ensure the right amount of fuel for the conditions.
Sizes and variations of the heater
The Planar heater comes in two capacities: 2 kW and 4 kW. In addition, there are ducting options of 10 feet and 5 feet. Depending on the extent of your heating needs, you can choose either of the two sizes. The versatility in size and ducting length makes this portable diesel heater suitable for a variety of spaces.
Technical specifications
The 2 kW version has a heat output of 0.8 – 2.0 kW and a fuel consumption rate of 0.10-0.24 l/h. It comes with a nominal supply voltage of 12V and a power consumption of 10-29 w (0.8-2.42 A). The 4 kW variation, on the other hand, gives heat output of 1.0 – 4.0 kW with a fuel consumption rate of 0.12-0.51 l/h. It also has a nominal supply voltage of 12V with a power consumption of 10-57 w (0.8-4.75 A). Each of these heaters comes equipped with temperature and power operating modes.
Benefits of Using Planar Portable Diesel Heater
Planar heaters offer several advantages that make them a solid investment for people who need a reliable source of heat in cold weather.
Heat output and efficiency
The Planar Portable Diesel Heater provides a substantial amount of heat, sufficient enough to keep you warm even in extremely cold conditions. Despite their compact size, these heaters are highly efficient when it comes to heat output.
Fuel consumption details
Both versions of the Planar heaters are designed to use fuel efficiently. With fuel consumption rates as low as 0.10-0.51 l/h, these heaters can run for extended periods without needing frequent refuelling.
Power consumption information
Planar heaters exhibit superb energy efficiency. Their power consumption rates range between 10-57 W (0.8-4.75 A), making them ideal for scenarios where power sources are limited or need to be conserved.
Functional Attributes of Planar Portable Heaters
The Planar heaters are equipped with a number of features that enhance their functionality and ease of use.
Dry heat production
One of the defining characteristics of these heaters is their production of dry heat. This means that unlike other propane heaters, they do not cause any condensation build-up. This is especially useful in enclosed spaces where dampness can lead to discomfort or the growth of mould and mildew.
Automatic altitude compensation
Another great feature of the Planar heaters is their altitude compensation capability. An on-board pressure sensor detects the current altitude and adjusts the fuel pump to introduce the right amount of fuel for the conditions.
Operating modes and controls
Planar heaters come equipped with multiple operating modes. Users can choose between temperature and power modes depending on their heating needs. Also, these heaters come standard with a dial temperature control, making them easy to adjust and operate.
Installation and Setup of Planar Portable Diesel Heater
Installing and setting up your Planar Portable Diesel Heater is easy and convenient.
Unboxing the heater
Firstly, upon receiving your heater, unbox it and ensure all parts and accessories are included. This should include the heater, a digital control, a mounting plate, a fuel pump, an exhaust silencer, air intake, exhaust pipe, and power cables.
Setup process
Setting up the Planar heater is simple. It involves mounting the heater to a suitable surface, connecting the fuel line, and attaching the exhaust pipe and air intake to the heater. Detailed instructions can usually be found in the user manual provided with the heater.
Powering the heater
Once you've set up the heater, connect the power cables as per the instructions. The Planar heater comes with ring terminals by default. You'll likely need to connect the heater to a 12V power source.
Optional Accessories and Add-Ons
In addition to the standard kit, there are several accessories and add-ons available for your Planar heater that can enhance its functionality and convenience.
Temperature controls
While the heater comes standard with a dial temperature control, you can also opt for a digital touchscreen that offers more precise control over the heater's output.
Adapters for different power sources
If you prefer not to use ring terminals, adapters are available that can interface with various power sources. These adapters are compatible with a custom 20′ adapter-ready power cable.
Additional ducting options
Depending on the setup and space you are heating, you might require additional ducting. Various duct lengths are available to ensure that you can flexibly and effectively use your Planar heater.
Review of Planar Portable Diesel Heater
The Planar Portable Diesel Heater has earned top reviews from customers for its durability, efficiency, and performance.
Customer experiences
Customers have praised the Planar heater for how well it works during cold weather camping. Its efficiency in fuel and power consumption, as well as its ability to produce dry heat, has won over many customers.
Performance in different weather conditions
According to customers, the heater performs admirably in various weather conditions. Its altitude-compensation feature ensures it works effectively even at high altitudes, making it invaluable for activities like camping.
Long-term durability and reliability
Users have also commended the heater's long-term reliability and durability. With proper maintenance and care, the Planar Portable Diesel Heater can serve you for many years.
Comparing Planar Heaters with Other Brands
Many features make Planar heaters stand out compared to other brands, making them a popular choice by many.
Key differences
A distinguishable difference between Planar heaters and others is the presence of the altitude compensation feature. This remarkable feature adjusts fuel pump rates based on the current altitude, ensuring optimal performance everywhere you go.
Performance comparison
Compared to other heaters, the Planar Portable Diesel Heater stands out due to its impressive efficiency in power and fuel consumption. This is a clear advantage which makes it an excellent choice for long winter nights.
Price comparison
When considering price, Planar heaters offer good value for money given their operational efficiency, durability, and the unique features they possess. They are a worthy investment for individuals seeking a reliable heat source.
Choosing the Right Planar Heater for Your Needs
It's important to choose the right heater that matches your specific heating needs.
Understanding your heating requirements
First off, it is important to understand the heating requirements of your space. This includes considering factors like the size of the space and the severity of the cold.
Choosing the right size and model
Choosing the right size and model of the heater is crucial. The 2kW and 4kW models offer different heating capacities – make sure to select the one that suits your needs.
Additional factors to consider
Additionally, don't forget to consider factors such as power source availability, noise level preferences, and space for installation when choosing your Planar heater.
Care and Maintenance of Planar Portable Diesel Heater
To ensure that your Planar heater continues to operate smoothly and efficiently, care and maintenance are crucial.
Routine checking & cleaning
Just like any equipment, the heater should be checked regularly to ensure that it is functioning well. Periodic cleaning can help prevent dust and dirt from interfering with its operation.
Handling minor problems and repairs
Minor issues can often be handled by referring to the troubleshooting guide provided by the manufacturer. This guide can help identify and fix common problems that may arise.
Process of procuring spare parts
It might be necessary to replace certain parts over time. Keeping a stock of common spare parts handy can save you from unnecessary downtimes.
Frequently Asked Questions About Planar Portable Diesel Heater
Having detailed information about your heater can go a long way in ensuring its efficient operation.
Addressing common queries
Familiarize yourself with the operating manual to get answers to common questions about the heater. Understanding its functions and features can assist you in getting optimal performance from your Planar heater.
Troubleshooting guide
In case of any operational issues, refer to the troubleshooting guide of the heater. It should provide you with simple solutions to common issues.
Customer service and support
If all else fails, reach out to customer service for support. Whether you're dealing with operation troubles or need help with parts replacement, they can provide guidance and solutions.
In conclusion, the Planar Portable Diesel Heater is an excellent heating solution for cold weather camping and other outdoor adventures. Its efficient performance, high durability, and unique functionalities make it a sought-after option for those looking for a reliable heating source.